Review: Bliss of Flesh - Beati Pauperes Spiritu
Beati Pauperes Spiritu

Label: Non Serviam Records
Year released: 2013
Duration: 48:45
Tracks: 9
Genre: Black/Death

Rating: 3/5

Review online: October 9, 2013
Reviewed by: Sargon the Terrible

for:Beati Pauperes Spiritu



Rated

3

/5 (

60%

) (

2 Votes

)

Review

Second album from French Death/Black band Bliss of Flesh, who sound like a tech band from the name, but this is not that techy. This is much more Death than Black, basically just rocking some tremolo riffs and calling that "black metal". The songwriting is ok, the production is solid, and the band is very tight. The vocals are a problem for me, as the growls are decent, but the band often utilizes a kind of half-clean/yelling kind of style as counterpoint and it sounds like complete ass when they do. So this is not awful, but it has some rather glaring flaws.

Click below for more reviews
Latest 0-9 A B C D E F G H I J K L M N O P Q R S T U V W X Y Z Various Books/Zines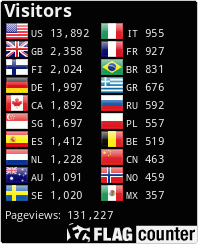 The Metal Crypt - Crushing Posers Since 1999
Copyright © 1999-2022, Michel Renaud / The Metal Crypt. All Rights Reserved.