Review: Burning Nitrum - Pyromania
Pyromania

Label: Independent
Year released: 2012
Duration: 21:41
Tracks: 5
Genre: Thrash Metal

Rating: 3/5

Review online: September 12, 2012
Reviewed by: MetalMike

for:Pyromania



Rated

3.86

/5 (

77.14%

) (

7 Votes

)

Review

Italy's Burning Nitrum emulate the classic 80s Crossover style of Thrash Metal. Angst-ridden screams and relentlessly speedy riffs, with occasional breaks in tempo, pretty much sums up their EP, Pyromania. There's nothing original about their songs so they've got some work to do to live up those that went before. Pyromania is aimed at fans of the acronym bands of the late 80s like D.R.I., G.B.H. and C.O.C. Decent, if that's your thing.

Click below for more reviews
Latest 0-9 A B C D E F G H I J K L M N O P Q R S T U V W X Y Z Various Books/Zines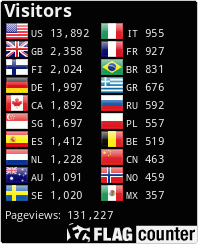 The Metal Crypt - Crushing Posers Since 1999
Copyright © 1999-2022, Michel Renaud / The Metal Crypt. All Rights Reserved.