Review: Cosmic Funeral - Godless War To Eternity
Godless War To Eternity

Label: Independent
Year released: 2012
Duration: 20:23
Tracks: 5
Genre: Black Metal

Rating: 3/5

Review online: September 2, 2012
Reviewed by: Sargon the Terrible

for:Godless War To Eternity



Rated

3

/5 (

60%

) (

6 Votes

)

Review

This is the debut EP from this obscure Turkish band. I was expecting it to be very Darkthrone, but instead, this band works a keyboardy vibe not too far removed from old Dimmu. The riffs are decent, with the keys providing effective atmosphere, while the songwriting is predictable but solid. The vocals are a croak, rather than a screech, and that's welcome. This EP is too short to be as epic as the band obviously would like, but also doesn't have time to wear out its welcome. Passable.

Click below for more reviews
Latest 0-9 A B C D E F G H I J K L M N O P Q R S T U V W X Y Z Various Books/Zines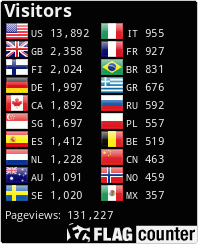 The Metal Crypt - Crushing Posers Since 1999
Copyright © 1999-2022, Michel Renaud / The Metal Crypt. All Rights Reserved.