Review: Bak De Syv Fjell - Bak De Syv Fjell
Bak De Syv Fjell

Label: Frostscald Records
Year released: 2009
Duration: 8:38
Tracks: 2
Genre: Folk Metal

Rating: 3.5/5

Review online: March 6, 2010
Reviewed by: Michel Renaud

for:Bak De Syv Fjell



Rated

3.67

/5 (

73.33%

) (

3 Votes

)

Review

This is a re-issue on MCD of a 1997 7" titled From Haavardstun by this Norwegian folk metal act. Short and sweet at less than nine minutes, you barely get a chance to get a taste of what the band is about and it's over. This is pretty light in terms of metal, sometimes sounding like "acoustic gone metal", the music is definitely not on the aggressive side of things and is actually kind of soothing. The first song especially can be kind of monotone, with the vocals providing the most variety – these are mostly clean male vocals that sound kind of sorrowful, but there are also some female vocals that kick in here and there, a very soft of melodious voice that even sounds angelic at times. The second song is slightly more upbeat, kicking up the folk/rock a notch and is definitely a more interesting listen, especially for the first 1:30 or so just before the vocals kick in. The female vocals are also more remarkable on this one, very entrancing, while the male vocals follow the same pattern as on the first song. If you're looking for heavy, pumped out folk, this release is obviously not it, but for something relaxing Bak De Syv Fjell fits the bill, though a full-length would work better as this MCD is over before you know it (there are rumors of one being in the works...)

Click below for more reviews
Latest 0-9 A B C D E F G H I J K L M N O P Q R S T U V W X Y Z Various Books/Zines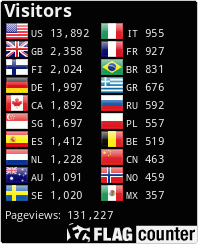 The Metal Crypt - Crushing Posers Since 1999
Copyright © 1999-2022, Michel Renaud / The Metal Crypt. All Rights Reserved.