Review: Blackwinds - Flesh Inferno
Flesh Inferno

Label: Regain Records
Year released: 2008
Duration: 56:19
Tracks: 10
Genre: Black Metal

Rating: 3.5/5

Review online: September 10, 2008
Reviewed by: Sargon the Terrible

for:Flesh Inferno



Rated

1

/5 (

20%

) (

4 Votes

)

Review

I wanted to like this. Blackwinds are an extreme old-school BM band ripping out homages to the second-wave luminaries like Mayhem and Darkthrone. I admire the sentiment, and this isn't done poorly, it's just not done well enough to make up for a complete lack of originality. This has a good guitar tone, and bashes out some good bits, but I just don't find this compelling, and it does not really stand out from the eight billion other old-school wannabes in any way.

Click below for more reviews
Latest 0-9 A B C D E F G H I J K L M N O P Q R S T U V W X Y Z Various Books/Zines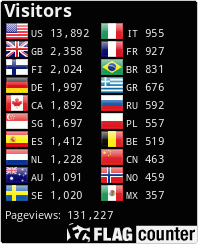 The Metal Crypt - Crushing Posers Since 1999
Copyright © 1999-2022, Michel Renaud / The Metal Crypt. All Rights Reserved.