Review: Black Flare - Black Flare
Black Flare

Label: Firecum Records
Year released: 2021
Duration: 41:11
Tracks: 9
Genre: Heavy Metal

Rating: 3/5

Review online: June 29, 2021
Reviewed by: MetalMike

for:Black Flare



Rated

3.5

/5 (

70%

) (

4 Votes

)

Review

Portugal's Black Flare play a beefy brand of heavy metal on their self-titled debut, combining a thick and thunderous bottom end with Maiden-esque riffs/leads and gravelly shouted vocals. The songs are not bad, somewhat doomy at times, throw a fist in the air at others, but not overly distinctive as traditional heavy metal goes. I don't dislike Black Flare, but I feel like more time went into getting the fat guitar tone than went into the rest of the songs as that tone is about all I can remember once the album is over. This is a solid release, but Black Flare will need to step up their game on the next one if they want to rise above what is a very crowded field of bands that are playing heavy metal these days.

Click below for more reviews
Latest 0-9 A B C D E F G H I J K L M N O P Q R S T U V W X Y Z Various Books/Zines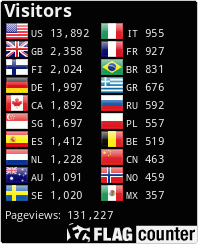 The Metal Crypt - Crushing Posers Since 1999
Copyright © 1999-2022, Michel Renaud / The Metal Crypt. All Rights Reserved.