Review: Crucifliction - K.K.N.D.
K.K.N.D.

Label: Independent
Year released: 2019
Duration: 35:53
Tracks: 8
Genre: Heavy/Thrash

Rating: 4/5

Review online: November 19, 2019
Reviewed by: Luxi Lahtinen

for:K.K.N.D.



Rated

3.83

/5 (

76.67%

) (

6 Votes

)

Review

Formed in Vancouver, Canada in 2008, Crucifliction have been called Canada's answer to Megadeth, and on their self-funded second album K.K.N.D (or Krush, Kill, aNd Destroy, which is either a reference to the RTS game series of the same name or a prime example of really stretching what counts as an abbreviation), it's not hard to see why. They play a brand of Heavy/Thrash Metal that displays a good amount of diversity and complexity. While there are clear similarities to Megadeth in the shredding guitar work and the Mustaine-esque delivery of vocalist/guitarist Chris Robertson, the band has a lot more ambition than just being a cheap copycat (granted, the opening of "U.S.S.A." sounds a lot like a certain Megadeth song. You'll know it when you hear it). Rather, they build on what made Megadeth so popular to create their own take on their sound, which shows a genuine desire to do more than just ride their coattails.

It always baffles me that bands this talented have to go on unsigned while trend-whoring hacks get signed to a label without issue. This is an album that may have a cover that is a perfect example of why Photoshop shouldn't be used by just anyone, but it's also a damn impressive slab of technical Heavy/Thrash that recalls the past greats of the genre in their prime without being a wholesale imitation. Recommended.

Click below for more reviews
Latest 0-9 A B C D E F G H I J K L M N O P Q R S T U V W X Y Z Various Books/Zines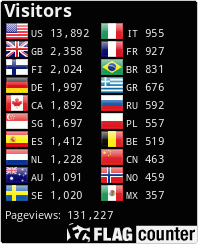 The Metal Crypt - Crushing Posers Since 1999
Copyright © 1999-2022, Michel Renaud / The Metal Crypt. All Rights Reserved.