Review: Beastmaker - Inside the Skull
Inside the Skull

Label: Rise Above Records
Year released: 2017
Duration: 38:15
Tracks: 10
Genre: Doom Metal

Rating: 3/5

Review online: October 15, 2017
Reviewed by: MetalMike

for:Inside the Skull


Review

Inside the Skull is album #2 from California's Beastmaker and it picks up where the debut left off. Thick, fuzzy guitars, droning vocals and macabre lyrics mix in a stew of old-school Doom Metal. There is nothing unusual or even all that exciting here, so the issue I raised with the last album about making music with an identity remains. The songs literally drone on from one to the next with only the pauses between to separate the last from the next. I like some of the riffs but after a couple of songs, I'm ready for something else.

Other related information on the site
Review: Lusus Naturae (reviewed by MetalMike)

Click below for more reviews
Latest 0-9 A B C D E F G H I J K L M N O P Q R S T U V W X Y Z Various Books/Zines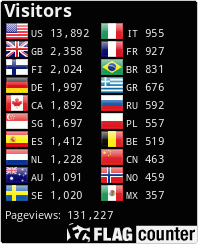 The Metal Crypt - Crushing Posers Since 1999
Copyright © 1999-2022, Michel Renaud / The Metal Crypt. All Rights Reserved.