Interview with guitarist Matias Knuuttila
Interview conducted by Luxi Lahtinen
Date online: September 29, 2022



Gladenfold, formed somewhere in Turku, Finland in 2003, released their third full-length studio album, Nemesis, on Reaper Entertainment on April 29, 2022. It has a more aggressive and darker style compared to the previous album, When Gods Descend, released in 2019. They label their music as epic melodic death power, which describes the band's sound pretty well as it truly is a sum of many different influences and doesn't fit popular subgenres of metal music. This new album is a very ambitious work with multilayered song structures and an engaging atmosphere that will surely please many metal fans out there.
We contacted one of the band's guitarists, Matias Knuuttila, to learn more about their new album, their gigging plans
and the future and also if all the sacrifices the guys have put into the band have begun to pay off.
Hey Matias, how's life in the ex-capital of Finland, Turku?
Matias: Thanks for asking, it's all fine here! The summer's coming to an end, but it has been a good one!
NEMESIS
Congratulations on the release of Gladenfold's third full-length album, Nemesis, which came out on Reaper Entertainment on April 29, 2022. Was it much different making this album compared to your previous album, When Gods Descend, in terms of songwriting as well as studio time?
Matias: Thanks! Just like When Gods Descend, our singer Esko wrote most of the stuff for this album, but otherwise the process was quite different. This time, we recorded everything but the drums in our home studios and sent clips and tracks back and forth so others could review what had been recorded. Working online like this is not the fastest and most inspiring way to work, but you get things done, nevertheless. On the other hand, it is flexible for everyone. Even the mixing was done mostly online. The mixing process of When Gods Descend was long and troublesome because the songs were not arranged that well and we had too many ideas and tracks that didn't really support each other. That caused lots of trouble for mixing, and obviously we didn't want to do make the same mistakes twice. With Nemesis we made sure that everything was properly recorded and arranged and spent a lot more time figuring out how to improve the songs in general. When everything was ready, mixing Nemesis was way more straightforward and easier (from our point of view), almost enjoyable! Guess we have learned the importance of "doing your homework"!
When listening to Nemesis, I find it much more aggressive and darker compared to anything else you have recorded before. Where on earth did this extra load of aggression and darkness came from? Is it somehow related to the fucked-up COVID times when peoples' lives were restricted and all that?
Matias: That's a good question. I cannot really point out just one thing as the source of those dark elements.
The idea for an album with this kind of sinister and dark approach was there from the beginning. Once we realized what kind of songs we had, we just decide to follow that darker direction and get soaked in it. Esko's role as the main songwriter is prominent here, and I think everything that happens in one's personal life, good or bad, gets easily carried into their music. That happened with this album. But to be honest, the pandemic and its consequences didn't really contribute to the music as one might think. It was in February 2020 when we met and discussed which songs would make it to Nemesis. A month after that the pandemic hit, but the songs were more or less composed already then.
How happy are you with the outcome of your new album? Did it turn out the way you hoped or did you make some slight compromises with it as far as the album's material is concerned?
Matias: You cannot really set exact goals for songwriting, as you never know what's to come. But besides great songs, you need top-notch production and I feel this album is a level up in that sense. We knew what we wanted to do things differently with this album those things worked out. So, we're happy for sure! The only thing that kind of bothered me was that we had no opportunities to record together. That's when the most interesting ideas emerge spontaneously, and you get immediate feedback from others. This was due to personal schedules, and, of course, all those social restrictions there were due to the pandemic.
How did you share the workload on Nemesis?
Matias: As usual, Esko wrote most of the songs. Paavali also wrote one song and having one song from him on each album has already become a thing. Toke joined the band when the previous album was already recorded, so this was his chance to
demonstrate his skills. He co-wrote many songs, did shitloads of arranging, editing, orchestration programming, sound design, etc., and even mixed two acoustic songs. His efforts have definitely taken Gladenfold to the next level.
Why did you choose the name Nemesis for the album? Does it reflect the songs in some unifying way or did you just need a strong and eye-catching title?
Matias: Coming up with the album title was a long, uphill battle. We had dozens of ideas and alternatives, but none of them really clicked. We wanted it to be something a bit ominous and sinister, but not too complicated. We were looking for a "strong and eye-catching" title just like you described and once the concept for the artwork was there, we realized that Nemesis would describe the lyrical themes on this album pretty well. It's not the most ordinary title for sure, but really fitting for this record.
How has the response been for Nemesis so far, both in Finland and abroad? Has it surprised you in any way?
Matias: It's been great, both in Finland and abroad, particularly among the old fans who know what to expect from us. There have been many reviews full of admiration and praise, and, of course, the reviewers and metalheads who don't know what to think of us and our music. And we still think the German metal press hates us, but you can't please everyone. :)
EPIC MELODIC POWER DEATH
It's kind of difficult to describe Gladenfold under a single subgenre of metal music because there are all kinds of influences pushing through your music. Do you see this as an advantage or disadvantage for the band since you can do whatever you want within different (metal) genres?
Matias: Yes, we play epic melodic death power or whatever you call it. :D Genre labels are problematic because
many times people expect us to play traditional power metal or straightforward melodic death metal, and then get mad if we don't stay inside "the box." But other than that, it is not an issue. Disregarding genre boundaries has been typical for Gladenfold and something the band has always wanted to do. Looking back to some of the early demo recordings, I think we have found a good balance of different elements, and this has turned into an advantage for us in the long run.
I bet one of your goals is to get a proper tour arranged outside of Finland at some point. How are those plans panning out for you guys at the moment?
Matias: We have no tour plans outside of Finland at the moment. Not that we would not like to go out and play, but the odds are against us. But let's see what happens, you never know! You can expect some shows later this year and in 2023 around Finland.
"SORRY, WE ARE CLOSED"
I am curious to know how easy it is to get gigs arranged in Turku for a metal band like Gladenfold these days. Is it tough now that some of the venues in Turku are closed, leaving less room for metal bands?
Matias: Yes, there are no venues for underground music or live clubs focusing on rock/metal music anymore. I think that is the common trend everywhere, but the situation in Turku has been quite sad for some years now. When I started playing shows around 15 years ago, there were venues in which fresh young bands could play their first shows, and an active scene with people who came to see the shows. There may be a scene still, but we are not aware of it or part of it. :D
Anyway, luckily both proper live venues (Apollo and Utopia) are open for all kinds of music, so there is still room for metal events if there are people who organize them.
As Nemesis just came out in April of this year, it was probably too late to jump on the festival train. At least I didn't see you guys playing at any Finnish metal festivals this year (or perhaps I just missed something). My assumption is that you guys will be at the station next year when this train for the festivals will be running again, am I right?
Matias: Hopefully so! The last proper festival year was 2019, and we played a few shows back then just after releasing When Gods Descend. But as there were hardly any festivals in 2020 and 2021 for obvious reasons, everything's been rescheduled and postponed until this past summer, and thus, there were no chances for us to jump on the festival wagon this year.
Would there be any bands that you would see as ideal touring mates for a band like Gladenfold?
Matias: A European tour supporting one of the big headlining power metal bands would be the deal for us! I
wouldn't mind if it was, for instance, Blind Guardian or Kamelot. :) If just thinking Finnish colleagues, Gladenfold and Brymir sharing the stage would be an interesting combo.
Nemesis is your second album for Reaper Entertainment. How happy are you being on their roster? Have they been supportive to Gladenfold thus far or is there anything that you'd like them to do better for the band's success?
Matias: Things have gone smoothly with the Reaper guys, and we have been really pleased working with them. They are not the biggest label in the scene, but they have the network and the connections to the right people in the business. For example, they closely co-operate with Atomic Fire Records, a recently established metal label with some big names like Amorphis, Sonata Arctica, Meshuggah, etc. Central Europe is a strong market for us, so having a German label is an advantage.
THE IMPORTANCE OF AUDIOVISUAL STUFF
So far, you have done a couple of videos ("Stone of Storms" and "Chiara's Blussing") to support the release of Nemesis. How much have these videos helped you to get the word out about the band? Do you see audiovisual things as essential nowadays in order to keep the band's head above the surface?
Matias: It is obvious that a presence on the socials has become more and more important nowadays. Still, we are the guys who like to put all our effort into the music, because that is our craft. It can be a bit hard to find the motivation and energy for everything else, like producing music videos and other visual content for social media. We don't have big resources and budgets for making videos and such, so we have to find the right people to help us with a sort of DIY mentality. Those music videos you mentioned turned out great, but it's tough to say how much music videos help in the end if they don't go viral.
What makes you proud of Gladenfold, either personally or from the whole band's perspective?
Matias: I truly feel we are doing things for the right reasons, and the good chemistry within the band
reflects that. Nemesis is our best work to date, and the fact that we were able to produce an album like this is something I'm really proud of. Just the amount of time and dedication everyone sacrificed in order to create it was absurd. And even though the band has existed for almost two decades, the slow but steady stream of releases has been a playground for a constant search and evolution for how Gladenfold sounds. Line-up changes have also refined the sound, but for the better! Because of all this, creating new songs for Gladenfold still feels inspiring and relevant, and it is a big achievement when you consider the age of this band and its players. :)
What would you personally like to achieve in the future, besides lots of fame and fortune, of course? ;o)
Matias: We haven't played much outside of Finland, except a few shows in the Baltic countries. A proper Euro tour or a visit to Japan for a few shows are things I would like to see happen sooner or later. I could name those as my personal goals with this band, besides creating more and more inspiring music with the other guys.
I think that's all I had in mind for this "chat" so thanks a lot for your time for getting this done and all the best both to you and Gladenfold in the future. Last commentary is left for you, so be my guest...
Matias: Thanks for checking out this talk, and I bet now it is the right time to give to spin to our new album Nemesis if you haven't heard it yet!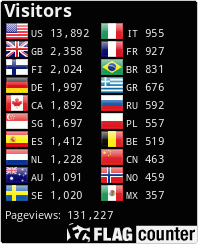 The Metal Crypt - Crushing Posers Since 1999
Copyright © 1999-2022, Michel Renaud / The Metal Crypt. All Rights Reserved.