Interview with bassist and vocalist Nick Sagias
Interview conducted by Luxi Lahtinen
Date online: May 7, 2022



Live pic of Nick Sagias by Rob Wright
Canada's Nick Sagias is the mastermind behind bands like Overthrow (thrash Metal) and Soulstorm (industrial death metal) and he even had a stint with Dutch death metal masters Pestilence in the early nineties.
After Soulstorm ceased to exist in 2016, Nick wanted to write some straight and honest death metal and he's been on that path ever since. He surrounded himself with seasoned musicians and went with the name Tribe of Pazuzu, releasing two very well-received EPs, Heretical Uprising (2019) and King of All Demons (2020), which put the band on the global death metal map. Currently, the band is in the studio to record their as-yet-untitled debut album that will hopefully come out in the fall of 2022.
We decided to contact Nick to get answers straight from the source regarding some Tribe of Pazuzu-related topics and
he was more than willing to give us all the needed information.
FROM THE ASHES OF SOULSTORM...
Would you mind telling us how Tribe of Pazuzu came about some 3+ years ago?
Nick: I ended Soulstorm in 2016 and in 2017, I started writing a batch of new songs for a death metal project. I wanted to go back to the roots, back to the idea that it was 1991 and I was coming back to Toronto after I left Pestilence. This is the band I would have done if it wasn't a hybrid and just straight up death metal. After I had about 10 new songs I wanted to record, Jason Deaville pushed me in the direction of working with professional musicians. He brought up Flo (Mounier) from Cryptopsy for the drums and mentioned John (McEntee) from Incantation on guitar. I realized shortly we would need someone for solos as well and that's when we found Randy (Macifecation).
Who is responsible for the name Tribe of Pazuzu? Does it have a deeper meaning or is it just a "cool name" that fits what the band is all about, music- and lyric-wise?
Nick: All of the above. I came up with the name Tribe of Pazuzu and it does have deeper meanings. If you know who Pazuzu is, you know that he is a protector from evil. It is also a signal to those in the know in underground metal and occult writings and literature, where I believe occult and anti-religious imagery is part of the sound that you can visualize when you see the artwork. It goes hand in hand, and I would like to return to that type of imagery bonding with the music again, creating a dark and evil vibe.
Everyone in the band has plenty of experience in different bands. Were you all on the same page when you started composing music for the band back in 2018?
Nick: The main goal for all the musicians was that they were professional and capable of doing the job. Flo is an amazing and talented drummer and though I may have painted myself into a corner for the future, that is the music that I needed to write, and I did not once worry if he could play any of it. That was huge for me, and it relieved a lot of stress and I could be wide open creatively with no limitations. I wanted it to be brutal and relentless and it needed to be fresh with current influences and dynamics, a more seasoned yet unrestrained version of writing death metal, its purest form. Randy adds his touch in the solos, John adds parts to complement the riffs and Flo does his thing adding interesting fills but also keeping up the relentless brutality which is the core of the Tribe.
Was it clear from the beginning that each of you would have total freedom to contribute to the band's comings and goings, in cooperation with the other members, of course?
Nick: I suppose it could have worked out like that. John initially expressed interest in helping with the
writing, but we already had the songs for the first EP written when we reached out to everyone. He added his guitar ideas though so that was great. For the second EP, John was in the middle of recording new Incantation music so he only was able to contribute backup vocals and right now he has the new songs, and we'll see what cool stuff he can hopefully add to them for the album.
TUNING TO B
Older fans may know you from your thrash metal days in Overthrow and how you sang in that band? Do you feel it's easier to growl your guts out than singing in a more traditional thrash metal style?
Nick: Yes true, some people may know me from Overthrow, but I think most would know me from Soulstorm because that was released worldwide through Metal Blade and Music for Nations. Regardless, after the Pestilence experience, I was already moving more towards death metal writing so the next step to the lower vocals was inevitable. The thrash thing, meh! I still have some of those vocal influences such as Mille from Kreator or Jeff from Possessed, I suppose, but from around '89 it went more into David Vincent, John Tardy and Martin van Drunen, where it has that harsher death metal style but most of the time you can understand the words. There is a bit more enunciation and I still hold true to this style, which is heavy like the music. Also, I have been tuning to B since 1991 and the lower vocals work well with that.
Do you see yourself as a perfectionist, at least at some level? When you are working on something for this band, do you try to make everything sound as pitch perfect as possible?
Nick: For the most part when something needs to be done the best possible outcome is for it to be perfect, yes? Best possible outcome. So why is that impossible? I'll tell you why, you play with the quality of people that you want to represent you and your music. I needed to use a guy like Flo because these songs needed to be belted out in a specific style and attitude which is rare to come across so playing with a guy that might be able to do it vs. playing with a guy that you never once have to worry about if he can do it is the biggest, stress reliever I've ever come across. Also, fans are buying the product. Would you like to hear the "it's good enough" version or would you like to hear the finished version that sounds exactly how it does in the artists' head, recreated perfectly for your enjoyment. ;) What if your favorite bands just said, "ah, that's good enough" ?? ;) The strangest thing about being any type of perfectionist is that with the members of Tribe, I have never once felt worried about the outcome and that has let me relax in those areas knowing that it's taken care of. For example, I write the music and demo the material and then I send those demos to Flo and he's never once said he can't play it, and I really pushed the limits for each recording. Also,
with Christian producing, I never have to worry about the sounds or his production because it sounds great and there may be only some mild tweaking of levels in the end but never the sounds or the mixing.
So being a perfectionist also means I would like to work with those types of people to complete the work because they understand the end vision and can achieve that goal.
2019: HERETICAL UPRISING
The band's first official work was the 5-track effort titled Heretical Uprising, which is a really nice slab of vicious, filthy, old school, and intense death metal that has not left anyone cold. How pleased are you with this EP? Do you think you achieved your goals on that release of making a name for the band, nice gig opportunities, etc.?
Nick: I'm extremely pleased with the outcome of the first EP, it did exactly what I needed it to do, which was to announce to the metal world that I was back, no more fucking around, back at full strength, 100% brutal, relentless in metal and attitude. Overthrow was so long ago and Soulstorm was more of a death/doom hybrid with industrial overtones. I wanted to get back to the organic sounds of death metal and explore the "what if?" of if I came back from Holland from the Pestilence fiasco and I immediately started Tribe in '91. That kind of fire, that kind of mentality and attitude.
We did start getting offers to play but at that point the plan was to go back into the studio and do the second EP. Even though it opened a lot of doors, I felt there wasn't enough material to start playing shows and it was really just to whet the appetite, get the word out in the death metal underground. When the second EP came out, we were ready to go and that's when the Covid lockdowns began.
You released the EP digitally and physically, thanks to Vic Records. How did you win Vic Records' interest in releasing the EP on a physical format?
Nick: I was involved with Roel and Vic Records from releasing the CD reissue of Overthrow's Within Suffering the previous year. We didn't share any Tribe news with anyone outside of the camp until the very day we released the first song, just prior to the EP release date. Back in January 2019, Roel heard the song and contacted us immediately. He was very interested in releasing the EP on CD. We were so caught up with the whole recording process that we never even thought about the CD, so it was perfect timing when Vic Records stepped in and asked us to release Heretical Uprising on CD.
Getting your first EP released can be considered a sort of milestone, depending on how you look at things. What kind of milestone was the debut EP for you personally and for the band in general?
Nick: It was a milestone for me in many ways, a goal I needed to reach. I was done with wasting good songs and
songwriting on people who had no heart or passion to play it, and this is an ongoing struggle from as far back as I can remember. It's a very particular thing, it's not just four guys, but it's four guys that can or cannot work with each other, and honestly, it's not always four or even three guys writing. Sometimes just one or maybe two guys are actually writing. It varies and that's just another one of the dynamics.
So here I am, 47 years old and I thought, "I never did a proper death metal album, the way I would approach it, with a darker lyrical approach as well as darker visual approach." I really wanted it to be anti-religious and in your face with everything right down to the logo. I wanted to put out something relentless and brutal, unadulterated in its purity to the death metal style that I have loved for over 30 years and to add to the body work I've done in the past.
2020: KING OF ALL DEMONS
About a year after the debut, you headed to The Grid in Montreal to record your follow-up EP. How was the studio experience? Was it relaxed due to your experiences in many studios over the years but at the same time a pretty intense session?
Nick: Well, because we work with Flo for our drum tracks, we are subject to his needs, which is to record at The Grid. This is indisputable. We recorded the first two EPs with Christian and Marco at The Grid and the sessions were amazing and relaxed. When I said earlier that I love being in the studio, this is still the truth but I'm always on point and alert during this time and it can be very stressful. It is absolutely intense because I'm listening for everything and it gets quite draining after a long day. Ear fatigue and sore muscles because you're sitting in the same seat for 8-10 hours or more. But we know the end result is the master plan. It's been great working with those guys and now we have the opportunity to go back to The Grid with Christian to record our full-length album.
King of All Demons, the 5-track follow-up EP, was again released digitally and physically in 2020 (thanks to Vic Records once again) and again shows the band's true colors of darkness and death, so to speak. Songwriting, the EP was a step up from you guys in terms of writing catchy and well-crated death metal. Do you feel you achieved all the important and essential steps musically to cement the band's name on the map of death metal?
Nick: Thank you so much for all the kind words there, I really appreciate it! There was absolutely a step up on the second EP because once I lit the fire to write and record Heretical Uprising, it, of course, carried over to the second EP King of All Demons. Most of K.o.A.D. was written just before the first EP came out. The original plan was to release three EPs and go from there. When K.o.A.D. came out, it went that much further for us with fans as well. We turned a lot of heads, caught the attention of a lot of people, bands, and promoters. It was very well received and reviewed and ended up on over 20+ year-end lists, and the buzz from the second EP lasted well into the next year with playlists and reviews and top 10s. It was a great affirmation that we were on the right track. We took a second and weighed our options and thought, "forget the third EP, let's do an album, the people want an album." So, I guess we will do an album. :)
Were there any drastic changes within the band regarding songwriting compared to the debut? Did some of you take on more responsibility for these new songs this time around perhaps?
Nick: I suppose the only thing that changed was the goal to add more blasts. I think on Heretical Uprising, there might not be as many blast beats? Although they are in every song, I think I figured out how I wanted to write within those
first two EPs, and the tempos I wanted to work with, which may seem strange to some people who write differently or might be adamant about NOT writing like that, but you gotta do you. You can write however you want, but I have to think about how I want to create and the family or tribe I want to create when releasing this music. I want to always be true to the sound of the Tribe and never move away from that. This is only limiting to those who can't write. You can still write catchy riffs and vocals with four minutes of blast beats. It's endless and I think death metal still has a long lifespan, with lots of road left to travel. There's a reason it's endured all this time.
FOCUSING ON FULL ALBUM
How much enthusiasm and willingness do you have to organize some gigs for the band, especially now that the pandemic is nearly over, at least for the time being?
Nick: Yes, of course, this is something we've talked about from the beginning. When we put out Heretical Uprising we immediately started getting offers to play live. Unfortunately, we only had the one EP worth of material at about 15 minutes, so it would probably be hard to pull off a show even as an opening slot. The schedule was to release the first EP and go back into the studio immediately to record and release the second EP and by March 2020, we were ready to play live! Woooo!!! And as we know, March 2020 was the lockdown of the entire world and we have been waiting to play live ever since. You need to be vaxxed to cross the Canadian border and that's why nobody comes here to play. But all that is finally starting to lift, and we are on track with recording the full-length album, so hopefully by September/October it will be out, and we can really do some proper shows and touring.
As you told me already, Flo has been recording his drum parts recently, so what else can you tell us about the recording process? Which studios do you possibly intend to use for the recording sessions?
Nick: Once again, Flo has returned to record all the drums for the full-length Tribe of Pazuzu album, which is being recorded at The Grid with Christian Donaldson producing, as he did on the first two EPs. And like I mentioned before, it's a package deal with using Flo to record our tracks. After hearing the finished product (the first two EPs), we have no hesitations of returning to The Grid again for the Tribe album.
How many songs are you going to record for your debut album? Will the musical direction follow the same formula that you started on the Heretical... EP?
Nick: We have eight new songs written and I wanted to focus on the savage brutality we started with the first EP, meaning relentless, intense, brutal songs with catchy riffs and solos and vocals that create the hooks. I suppose that is something I've learned to be more focused on over the years. Each song has its stamp, the thing that makes it pop in your head.
Will you produce the album yourselves or will you hire an outsider for this task?
Nick: We used Christian Donaldson at The Grid for the first two EPs and we have carried on in this tradition for the full-length album.
Like I was mentioning before, I didn't want the burden of producing to fall on me or to try and take control of the sound. This is the exact reason we wanted a producer. We like Christian's mixes so it's one less thing to worry about for me, so an outsider in the sense of not being in the band is good to have that but not an outsider of the death metal genre, which is an important distinction.
Do you also have some label guys who have reached out, wanting to release your debut album? Any working titles for the album, perhaps? ;o)
Nick: There are a couple of working titles right now but it's too early to tell. This is usually the last step for me and only comes together much closer to recording the vocals. The working titles I used for the songs in the early demo stage are just different strains of weed, so you got Kush, Black Lime, Ice, MK Ultra, that kind of stuff. It's funny but it lets me focus on the vocals without having titles attached to the riffs. So far, the interest we've had has been great and immense. There is so much support for us out there it's been incredibly heartwarming to see people excited about what we're doing,
bands, fans, and promoters. But as far as labels go, we've already reached out to Vic Records (for CD) and Eat My Records (for vinyl) to be ready for the full-length by the summer so we can release it shortly after.
When this album is finally unleashed, hopefully later this year, will there be a record release gig or even a tour to support the album's release?
Nick: Yes, of course. Like I said, it has always been the plan to play some live shows. The timing has been unfortunate on a worldwide scale. It's been beyond our control.
I know many people were itching to get back to playing live but there was no way we would waste people's time playing to an empty club with 50 people sitting down wearing masks. I'm not that desperate and it wouldn't be a proper show, or even fair to the band and paying crowd. And on top of that, only vaxxed people can get in? That doesn't seem fair, so we would rather wait and put on a proper big show with our friends' bands when we are back to full capacity and drop the vax mask mandates so all our friends can come see us and enjoy the show.
HOW DOES TRIBE OF PAZUZU SOUND?
If you had to describe the sound of T.o.P. to those people who have not yet discovered the band, how would you market the band to them?
Nick: I've heard people compare us to a few killer bands, big classic death metal bands with big riffs and this I find completely flattering. I can write in the vibe of classic bands like Morbid Angel and Behemoth. I mean there is a distinct style and evil nature of some of those classic releases and I have no problem being compared to something of such quality. I never intended to remake the genre, I only want to write high quality death metal that I can be proud of and contribute my part to the landscape of Canadian death metal.
Ok, I think that's all I had in mind for this conversation about T.o.P., so I want to sincerely thank you Nick for your time for getting this done and wish you nothing but all the best with future endeavors of the band. Any closing words, final curses, etc. to wrap up this interview session properly? The stage is yours... ;o)
Nick: Thank you so much, Luxi, for giving me the opportunity to share my thoughts about music and glad you appreciate my musical output and endeavors, it's far from over! Also, coming out this year is Nihilist Death Cult, which is in the hardcore punk style like early fast Poison Idea and D.R.I.'s Dealing With It. My brother is on drums and Ethan from Jaww/Abyss on guitar. There are some things happening, always moving forward... and, of course, the T.o.P. full-length! Thanks for everything!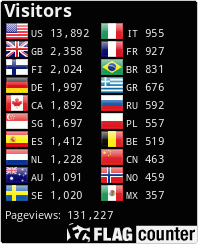 The Metal Crypt - Crushing Posers Since 1999
Copyright © 1999-2022, Michel Renaud / The Metal Crypt. All Rights Reserved.