Interview with vocalist Kena Strömsholm
Interview conducted by Luxi Lahtinen
Date online: April 14, 2022



The Mist from the Mountains is a relatively new Finnish melodic black metal outfit, formed in 2020, that wants to recapture the vibe and feeling of the music Dissection, Nalgfar, Mörk Gryning and many others were reshaping the genre with back in the '90s.
These experienced Finns (the band featuring both current and ex-members of ...and Oceans, Alghazanth, Diablirie, etc.) clearly cherish this '90s black metal heritage on their debut album, Monumental: The Temple of Twilight, which did not go
unnoticed at the head office of The Metal Crypt.
We contacted vocalist Kena Strömsholm to get some detailed information about the events that led to forming TMftM, the band's current conquests and future plans, and so on. He kindly gave us a brief glimpse into the soul-catching world of the band... read on!
THE BEGINNING
First off, would you enlighten us all on how The Mist from the Mountains came about?
Kena: TMftM is the spawn of our guitarist Tuukka and he is more or less the mastermind of this act. The idea itself grew out of his mind in high school, but the actual band was formed some years ago when things seemed to be in the right place. For a few reasons the band wasn't fully formed until a couple of years ago. Tuomas and I were the designated drivers for a band called Azazel, which was playing at a festival in the north of Finland. Tuukka attended the festival and Tuomas, who has known Tuukka since high school, hooked me up with Tuukka and we started talking about TMftM. That's how this act was formed.
Was it easy to find like-minded musicians who shared the same vision of what TMftM should be all about?
Kena: As a matter a fact, no. Tuukka had a strong vision of Scandinavian-style second wave black metal. It was something that buzzed in my head as well and after some phone calls and a few discussions, we had the line-up we wanted.
OF THE MONUMENTAL SOUNDS
To me, the band's debut album, Monumental - The Temple of Twilight, which was released by Primitive Reaction at the end of January 2022, has a strong '90s melodic Swedish black metal vibe to it, recalling such names as Mörk Gryning, Dissection, Naglfar and the like. Was this musical style something you wanted to recapture on your debut?
Kena: Yep! This was exactly what we were striving for. It's not like we wanted to reinvent the wheel, it was more
like paying tribute to the lost '90s era that we grew up with. But of course, we have added some personal and modern flavors to it, but the fundament sound is pretty much straightforward '90s black metal.
There are also a few, may I say, Moonsorrow-ish vibes in the song "A Paean to Fire". Was it intentional to conjure up associations to those Finnish pagan heathen metallers?
Kena: I've heard this reference before, but it's unintentional because we haven't really listened to Moonsorrow in that sense. It's a great band and I've known the guys since the '90s, but they haven't influenced us, at least not directly, but I do understand the connection.
How was making the album all in all, from song writing to recording?
Kena: We executed everything in the rehearsal place, except the mastering, which was done at Tico Tico studio. The idea was to record the whole album the old school way at Tico Tico, but due to Covid we decided to take some time and make it a DIY album. Sami recorded the drums somewhere in Jyväskylä I think and Tuukka and Henkka recorded the rest at the rehearsal place. After that we added all the vocals on top and that's pretty much it.
CONCEPT FOR THE SECOND ALBUM IS ALREADY IN PLACE
Did you all have the same vision for the concept of this album and how far along with any future releases are you?
Kena: The concept was decided before we even started writing any songs and we all had that vision tattooed in our
minds. There will be more. The concept for the second album is ready and bit by bit things are evolving into something for a follow-up to the debut album. The next one will be slightly different compared to the debut.
How pleased are you with your vocal performance on this record? Do you think you found the right pitch in your voice to match the atmosphere and feeling of the songs on the record?
Kena: It is what it is and pretty much what we were looking for. Maybe the next album will have something different stuffed in between. Time shall tell.
How did you find Natalie Koskinen who provided her siren-like guest vocal appearance on this album?
Kena: I called her up. :) We knew what kind of a voice would fit in and I knew Nata from before, so I just called her up and she said, "Yes, let's do it."
POSITIVE REACTIONS KEEP POURING IN
The response to your debut album has been overwhelming, to say the least. Were you prepared for such a flood of positive reactions?
Kena: We knew we had a strong album in the workings, but the feedback has surely been overwhelming and stronger than we expected. Maybe those who lived through the '90s era are keeping this album closer to the heart than the generation after. Hard to say, but yeah, the feedback has been great.
Does all this positive feedback motivate the band to keep working toward future conquests and victories?
Kena: Yes indeed.
Playing live is the oil for a band's engine. How important is playing live for the band? Do some of you want to keep the band as a studio act or do you all agree that it's essential to perform in front of a real audience?
Kena: There will be a few live appearances here and there, but TMftM is not a touring band, and we will not be
playing live very often. We are very selective when it comes to gigs due to a lot of different reasons.
How much material do you have ready for the band's next release? I would assume you don't want to rest on your laurels for too long especially now that things seem to be rolling smoothly due to all the positive feedback for your debut, right?
Kena: As I mentioned earlier, there will be a follow up to Monumental..., but we are not pushing or rushing anything. We have a new drummer, Pete, a new guitarist, Kimmo, as well as a new keyboardist, Emmi, so things are moving but it will take some time to set things up. I think Tuukka mentioned some weeks ago that he had the basics for around four new songs. The next album will be more progressive compared to Monumental..., not in a prog-rock sense, more like progressive in its bearing elements. But yeah, this will take some time and it will be ready when it's ready.
FESTIVALS ARE CALLING OUR NAMES
As you already mentioned, you have live appearances booked for Steelfest and Tuska Festival this year. I assume getting the slots to play at those two big metal festivals makes you feel things are starting to pay off for you guys and that a giant leap of success may be around the corner, eh?
Kena: Yes, we have been asked to play some festivals, but at this point we will only play Steelfest and Tuska this year. We are not striving for any kind of fame or fortune. We want to keep this band very mundane and our heads beneath sea level.
Is playing abroad like at some well-selected festivals on the band's bucket list, although it may demand quite a lot from each band member due to a number of different reasons (jobs, families, etc.)?
Kena: Well, we will do festivals only no matter domestic or foreign due to the reasons you just mentioned.
What are some of your personal goals with this band?
Kena: We keep all things realistic. With this band we have set up a goal we are aiming for. When that is reached, we'll call it a day. My personal goal is to wrap everything up within 3-4 years. There are a few personally important projects that
need to be done, but after that I will focus on something other than music and let the Gen Y.1 and Gen.2 take it from there.
Do you believe you will continue your cooperation with Primitive reaction in the future?
Kena: Yes, I think so. Why charge the battery when it's fully loaded?
THE MUSIC BIZ TODAY
What is your view of the state of the (rotten) music industry today? Small and mid-sized labels seem to love their bands but, unfortunately, major labels seem to be following money streams (the wider and bigger, the better, apparently), trying to cash in as much as they can without caring that much for individual artistic visions. The power of $$$ speaks more for them...
Kena: I think the music biz is an absurd and twisted circus especially when it comes to the mass of items being released. Even the hardest underground releases are far from being underground. All the old demos are being raped and released as "limited" LPs in 10 different versions. I haven't really paid attention to the metal scene lately. During Covid, I realized that I want to separate my flesh from their bones. There is just too much of everything and everything is all about the cash flow and me, me, me attitude. Quantity surely overrides quality. Without social media, things would look very different and, without the Internet, things would be even more enlightening. There's a lot of double standards in this biz, and in the world in general. This might sound like the barking of a grumpy old man [*LOL*], but as I have been saying since the '90s, all things rotate in 10-year cycles. The past few years have seen another synth black metal and dungeon synth era, but industrial metal is playing its role again and is rising from the ashes.
Speaking of music formats, do you prefer your music digitally or is a physical format the only real way to listen for you?
Kena: I prefer streaming at work or when driving, otherwise CD or LP. But when I think about it, I seldom listen to music nowadays. Every now and then I might spin some old faves on vinyl or CD, but that doesn't happen very often. It might just be a
phase or the fact that I'm a bit fed up with the scene. Of course, there are tons of great old and new artists, but the number of albums coming out is just too much. It used to be a shrine, something holy for the unholy. The magic is gone and the necessity has become obsessiveness.
What's in store for the band in 2022-23? Do you have a plan for the next 5-6 months or would you rather leave all long-term plans out of the band's scope to avoid unnecessary disappointments and such, given the situation of the world?
Kena: We have a short-term plan and the next step for the coming year goes something like this: Steelfest and Tuska festivals, working on the next album and everything it involves.
Can we expect to get any music videos from you guys in the near future? What could be a better promotional tool than putting out some audio-visual stuff on platforms like YouTube, etc.?
Kena: We've been discussing this and there were plans on making some videos. Time and ideas didn't quite match up, so it was put on ice. I'm not sure if it's that necessary for this debut album anymore, but for the upcoming album this would be "doable" if it served its purpose. If the quality meets the idea, then sure, but doing it just for the sake of doing it, no thank you.
Well, that's all I had in my mind for this "chat". I want to thank you for your time in making this interview happen and wish you all the best with your future endeavours with the band. May your path be blessed. Any closing words to wrap up this conversation?
Kena: Thanx Luxi, always a pleasure.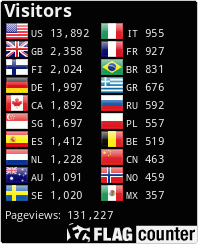 The Metal Crypt - Crushing Posers Since 1999
Copyright © 1999-2022, Michel Renaud / The Metal Crypt. All Rights Reserved.