Review: Luctus/Argharus - Sonitus Caeli Ardentis (Split CD)
Sonitus Caeli Ardentis (Split CD)

Label: Ledo Takas Records
Year released: 2007
Duration: 46:32
Tracks: 10
Genre: Black Metal

Rating: 4/5

Review online: May 29, 2007
Reviewed by: Michel Renaud

for:Sonitus Caeli Ardentis (Split CD)



Rated

3.67

/5 (

73.33%

) (

3 Votes

)

Review

I'm always a bit wary of split CDs because you often get mismatched bands and/or some sub-par material thrown in just for the sake of releasing something. Such is not the case with this split from Lithuania's Luctus and Argharus (the band's first release.) Not only are the bands similar enough in style so that one is not shocked when the track list hits the next band, but the songs here are all good (and then some.) Both bands play Black Metal that at times sounds like a mix of early 90s Scandinavian BM and late 90s/early 2000s more "blasting" BM, all this with a hint of more old school, thrashier BM. So you get a bit of everything. Luctus' material is arguably less accessible, showcasing the most violent and fastest songs, while Argharus tone things down a little with a slightly more melodic sound that nevertheless maintains a very raw edge, and with more guttural, less "out of this world" vocals. Argharus stick to their native tongue, while all but one of Luctus' songs are in English - not that one could really tell just from casual listening, mind you.

Overall a good split, and I can't really say I liked one band's material above the other - the album flows pretty nicely with no bad surprises. Just one of those CDs you can set on repeat and not feel the urge to change even after a few hours (or is it me being too lazy to get up and change the CD? :)) I believe this is limited to 1313 copies, but I don't recall running into it at any of my regular distros, so there might still be some copies on the market.

Additional Information

Argharus web site: www.argharus.net
Luctus web site: www.luctus.net

Click below for more reviews
Latest 0-9 A B C D E F G H I J K L M N O P Q R S T U V W X Y Z Various Books/Zines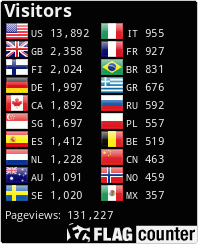 The Metal Crypt - Crushing Posers Since 1999
Copyright © 1999-2022, Michel Renaud / The Metal Crypt. All Rights Reserved.