Review: light am I - ...[l]ight am I,,,
...[l]ight am I,,,

Label: SHR
Year released: 2006
Duration: 42:08
Tracks: 6
Genre: Black Metal

Rating: 3/5

Review online: October 16, 2006
Reviewed by: Michel Renaud

for:...[l]ight am I,,,



Rated

3.17

/5 (

63.33%

) (

6 Votes

)

Review

Holy lo-fi frenzy, Batman! Such minimalistic, primitive and monotonous (in the right sense of the term, weirdly enough) music has not crossed these ears in a long time. Six seemingly untitled tracks, the last of which is a little over 23 minutes of the same repetitive sound (a humming sound with what sounds like a waterfall or rain in the background.) The other five tracks are genuine songs of very primitive Black Metal that are overall quite repetitive and monotonous. The instruments are distinguishable enough, but that's about it - it's all on the same level. Many bands try this but don't pull it off, but here the result is a depressive, dark, evil-sounding atmosphere. Add to that some monotonous (that word again) vocals - very low BM-type vocals that are "clean" enough for most lyrics to be relatively easily decipherable. A few years ago I would have been able to liken this to some better-known band, but it's been so long since I've listened to this kind of stuff that nothing springs to mind. I'm not sure what's up with the last track - it is really 23 minutes of the exact same thing with no variation whatsoever. That's definitely not the kind of stuff you want to hear while walking in a dark forest. :) Effective but, 23 minutes? A bit overdone. This is the kind of CD that won't win any prize and will most likely be bashed by 90% of people out there, but somehow I kept on hitting "Play" whenever it ended (OK, after a couple of times I ended up skipping that last track... I'm not that crazy. ;)

Click below for more reviews
Latest 0-9 A B C D E F G H I J K L M N O P Q R S T U V W X Y Z Various Books/Zines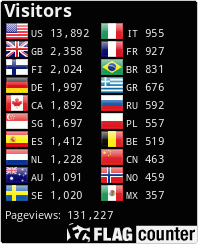 The Metal Crypt - Crushing Posers Since 1999
Copyright © 1999-2022, Michel Renaud / The Metal Crypt. All Rights Reserved.