Review: Locust Point - Locust Point
Locust Point

Label: Dystopian Dogs
Year released: 2018
Duration: 39:41
Tracks: 10
Genre: Heavy Metal

Rating: 3/5

Review online: September 4, 2019
Reviewed by: Sargon the Terrible

for:Locust Point



Rated

4.11

/5 (

82.22%

) (

9 Votes

)

Review

This is a band very much in the Motörhead vein of headbanging, rock-ish metal with bouncy rhythms and strained-sounding vocals. It's not recorded well, and the songwriting is highly cliched, but I can't deny there's a certain infectious energy to this, and I caught myself nodding along and tapping my foot more than once. So there's nothing here you haven't heard a billion times before, but despite a name and look a long way from anything to do with their sound, Locust Point are kind of fun.

Click below for more reviews
Latest 0-9 A B C D E F G H I J K L M N O P Q R S T U V W X Y Z Various Books/Zines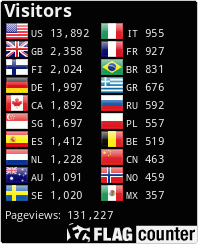 The Metal Crypt - Crushing Posers Since 1999
Copyright © 1999-2022, Michel Renaud / The Metal Crypt. All Rights Reserved.